Online orders are only accepted for shipping within the US.   Email Margaret at margaret@mainelyquiltsoflove.com  regarding international shipping cost and orders outside the US.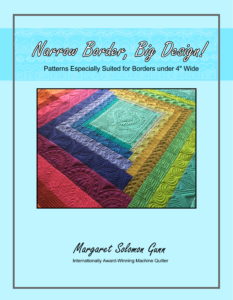 Narrow Borders – Big Designs
Nearly every quilt has some for of border or sashing. Learn over 100 designs ideally suited for narrow borders. Designs include freehand and template-based patterns, feathered designs and my unique Mix-n-Match shape gallery of dozens of cookie-cutter designs. 84 pages. $25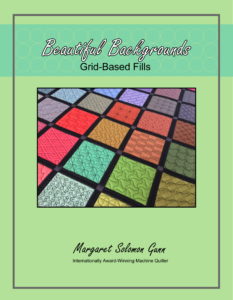 Beautiful Backgrounds Grid-Based Fills
Grid-based fillers have long been a staple design element in Margaret's quilts.  Learn techniques for creating nearly 75 fills from traditional fillers based on the Japanese Sashiko patterns to more modern interpretations.  The use of a grid keeps fill patterns structured and easily repeatable. Spiral bound. 91 pages.  $25
Spoonflower.com caries my custom grid fabric for practicing patterns from the book.  Use search code "margaretsolomongunn" or "beautifulbackgrounds".  Each yard contains 48 5″ gridded squares.  Fabrics are available for 1/2″ and 1" straight and point grids.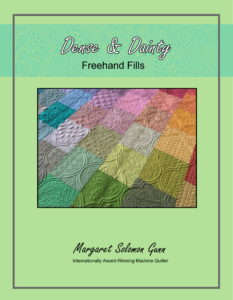 Dense & Dainty Freehand Fills
Creative backfill designs are everywhere.  Learn effective techniques for designing and stitching unique freehand fills suitable for everything from the most traditional quilt to today's uber-modern alternatives.  Spiral bound. 93 pages.  $25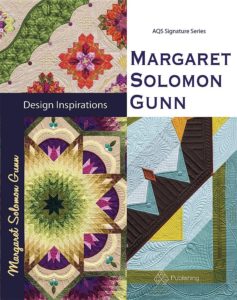 Design Inspirations
The AQS Signature Series brings an in-depth look into the quilting process of award winner Margaret Solomon Gunn.  Learn Margaret's techniques for making three of her most well-known, award-winning quilts. The book chronicles Margaret's journey for each of the three quilts from design inspiration to finished product, providing tips and insight on how they were created. Line drawings, thread suggestions, quilting instructions and detailed photographs are included.  160 pages. $26
remove 'example' after copy
[replace this with image]
will be bold
description, copy as many paragraphs ([p]…[/p]) as necessary
will be italic