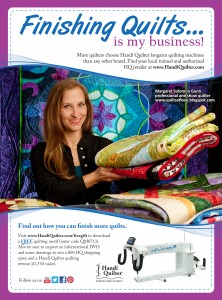 I am the owner of Mainely Quilts of Love, longarm quilting studio located near Portland, ME.   I have been quilting for clients since 2009, but have quilted for much of my life.  I can be reached at Margaret@MainelyQuiltsofLove.com or (207)838.4333 if you are interested in having a quilt quilted.
I learned to sew nearly 35 years ago.  My mother first taught me to embroider, and then to make clothing and pillows.   In college, I made my first bed quilt, and have not turned back.   Between 2007 and 2009, I made over 100 quilts for the children's charity, Project Linus.   I am not your typical quilter though.  I  have college degrees in mechanical and aeronautical engineering, and years of experience in that field.   I have found, though, that this field is hard to juggle 3 kids and a career.  Planning ahead (or so I thought), in 2009, I bought a longarm quilting machine and started my business.  This enables me to pursue my overwhelming passion for sewing with a career that allows me to be at home when my kids need me home.  I make quilts ranging in size from small wall hangings and throw pillows, to table runners and placemats, to custom quilts to fit beds of all sizes.   I own a long arm quilting machine capable of custom quilting up to a king sized quilt (max width top 125″).   Though I certainly do plenty of all-over or pantograph designs for my quilting clients, my love is to design & create unique custom quilting.  Each year, I also make at least 1 quilt for show.  I currently have eight quilts active on the show circuit.  I have won numerous Best of Show awards at national level shows, as well as ribbons at international shows including AQS Paducah and IQF Houston.  I am a regular author for Machine Quilting Unlimited, and often have quilts featured in quilting magazines.  In 2015, my quilt Bouquet Royale earned a Masterpiece Quilt Award from the National Quilt Association.
You might see my face in ads for Handi Quilter too.
Here's some quick links to my background, quilting awards and works published…